Scenic Helicopter Flights Sydney
Wisemans Ferry ( FROM $347.45* per person )
(* Based on 3 passengers flying together)
Flight duration : approx 1 hours 12 minutes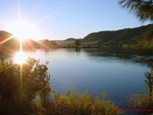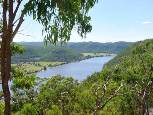 Located 85 km from the centre of Sydney, Wisemans Ferry is now little more than a small settlement, a few shops and, most importantly, a ferry across the Hawkesbury providing access to St Albans, the Hunter Valley and Gosford.
Wisemans Ferry is not so much a town as a fascinating relic on the banks of the Hawkesbury River.
Things to see:
Wisemans Ferry Inn
Located on Old Northern Road this is the site (the building has been altered over time but much of the original still remains) where, in 1826 Solomon Wiseman built himself a handsome two-storey residence, Cobham Hall, which he later used as an hostelry calling it The Branch Inn.
The Great North Road
By 1825 Surveyor Heneage Finch had surveyed a route from Sydney to Newcastle through Castle Hill. It reached Wisemans Ferry by 1828 but difficulties occurred when it started across the river. Major Mitchell surveyed a new route west of the ferry crossing which was known as the Ten Mile Hollow. Work began in early 1829 and was completed six months later. Up to 520 convicts were employed to carve the road out of solid bedrock. In some places the steep stone retaining walls were up to 12 metres high and supported by massive buttresses. It is now part of the Great North Road and has been classified by the National Trust.
St Mary Magdalene's Church of England
Located on the road leading to Webbs Creek ferry this is not the original church which was built by Solomon Wiseman around 1840. In fact by the 1880s it had fallen into disrepair. A new church was built at that time using many of the original pieces of sandstone. It was constructed as a result of a public subscription. Some people insist that it is a Blacket church but this is unlikely.
Wisemans Ferry cemetery
Located 3 km along the Singleton Road this is one of the oldest cemeteries in the country. Certainly the presence of Peter Hibbs, who was born in 1757 and who travelled with to Australia with Captain Cook in 1770 and with Captain Phillip in 1788, makes it one of the country's most unusual and significant cemeteries.
Hotels
The Jolly Frog Hotel
Cnr Bridge & Macquarie Sts
Wisemans Ferry NSW 2775
Telephone: (02) 4577 6972
Wisemans Ferry Inn Hotel
Old Northern Rd
Wisemans Ferry NSW 2775
Telephone: (02) 4566 4301
Resorts
The Retreat at Wisemans
Old Northern Rd
Wisemans Ferry NSW 2775
Telephone: (02) 4566 4422
Facsimile: (02) 4566 4613
Rating: ****
Route :
Bankstown Airport
Parramatta
Wisemans Ferry
Return via similar route

Prices:
Flight cost depends on the number of passengers and the aircraft type:

$715.80



$1042.25




$1669.25





$2235
Special Offers

Scenic Helicopter Flights Sydney